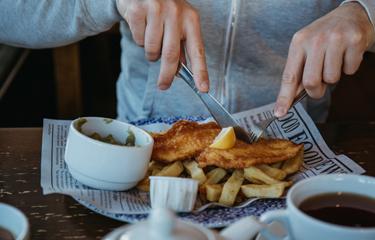 Details of the UK government's latest round of sanctions against Russia following its invasion of Ukraine have been published, with the measures including an additional 35% tariff on Russian imports of whitefish.
This rate was originally announced in March 2022, but was not confirmed until July 19. The additional duties came into effect on Wednesday, July 20.
The tariffs will affect direct imports of seafood of Russian origin, with fish caught by Russian vessels and shipped directly to the UK being considered to be of Russian origin and therefore subject to the additional duties. However, products caught in Russia that are substantially processed in another country are not considered to be of Russian origin and as such should not be subject to additional customs duties.
According to the British public body Seafish, freezing and portioning do not in themselves constitute substantial processing. Filleting and boning, whether manual or mechanical, go beyond the simple cutting operation and can be qualified as substantial manufacturing processes. Similarly, vacuum packaging is a process that goes beyond a simple packaging operation due to the need for specialized equipment.
During this time, any shipments that have already been cleared by Russian or Belarusian customs and are on their way to the UK will not be affected.
In a statement, Seafish chief operating officer Aoife Martin said implementation of the 35% tariff had been halted to allow work to be undertaken to understand the likely impacts on the seafood sector. and that ministers were applying the tariff now in consultation with industry.
"As the tariff sanction has long been reported, many seafood companies are already exploring alternative options, but any companies still importing seafood directly from Russia will be affected when the tariff takes effect next week. ", said Martin.
Martin said the UK was heavily dependent on imports of whitefish, with the country's fleet landing around 47,000 metric tonnes (MT) of cod and haddock in 2020, while seafood companies imported over 430,000 MT of whitefish.
"Russia controls 45% of the world's whitefish supply, so removing this fish from our seafood supply chain will have impacts as companies try to find alternative sources of supply," he said. Martin. "Consumers can expect to see different species at their local fish and chip shop. Unfortunately, seafood prices may also have to rise.
Businesses set to be hardest hit by the tariffs are UK fish and chip shops, which have already battled rising inflation which has forced price increases. In May, London insolvency firm CompanyDebt estimated that up to a third of all fish and chip shops in the UK could close within the year and launched a campaign called 'Save The Great British Fish-and -Chip Shop" to try and help the industry.
Despite the direct impacts the tariffs are likely to have on fish and chip shops, National Federation of Fish Fryers (NFFF) President Andrew Crook posted an article on the organization's website saying that the fish and chips industry must support the tariff. take action if the government feels this is the right way to go. Crook said he came to this conclusion after numerous meetings with the UK Department for Environment, Food and Rural Affairs.
"As always, we will support anything that contributes to a speedy conclusion to this conflict," Cook wrote. "They ban or put tariffs on almost everything coming out of Russia, so the fish hasn't been isolated."
Crook said the NFFF had committed to UK Minister of State Victoria Prentis to organize a meeting between the federation, suppliers, the UK Department for Business, Energy and Industrial Strategy (BEIS) and Her Majesty's Revenue and Customs (HMRC) to discuss what can be done to support the fish and chips sector 'as they know the impact this is likely to have'.
"We hoped this had been dismissed indefinitely, but we have to deal with this now and find a way forward," Crook said. "The NFFF will continue to fight for the sector."
Photo courtesy of Alena Veasey/Shutterstock