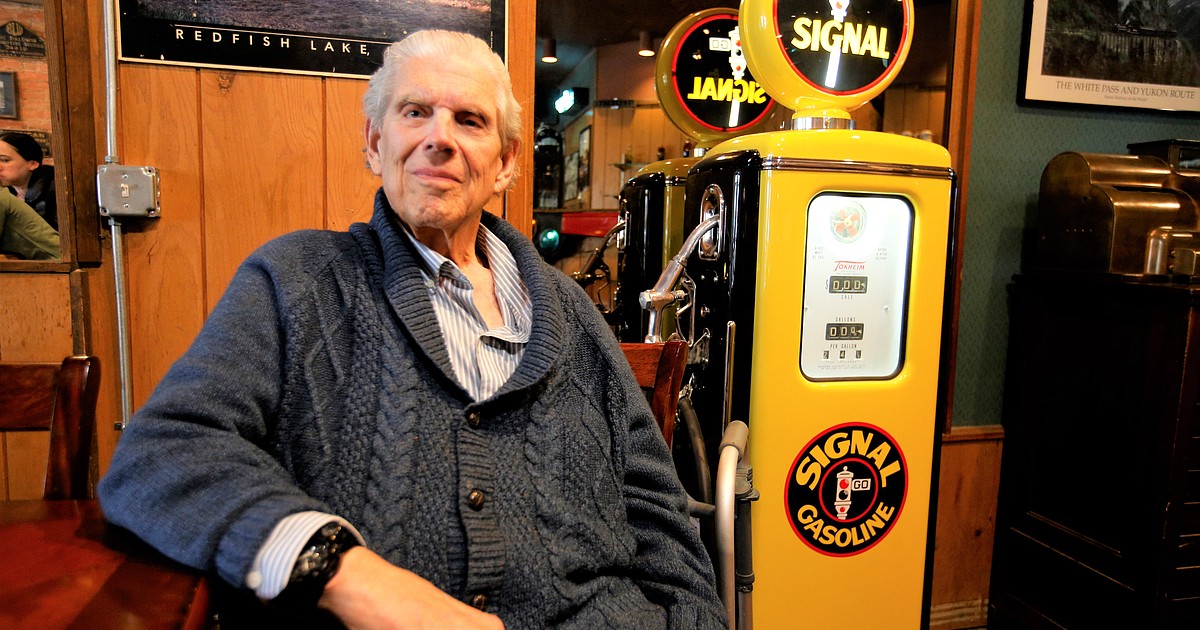 COEUR d'ALENE – The Iron Horse Bar and Grill, on Thursday June 2, will celebrate its 50th anniversary.
A celebration to end all celebrations is surely in store, right?
Owner Tom Robb isn't so sure.
"I have a couple of things in mind, but I'll be honest with you now, I don't know. I don't know what we're going to do," he said. "I have a few ideas. But wait a minute, I love them. The other, I think they're pretty juvenile. So I'll think about it and get an answer.
But there's one thing the 81-year-old knows: he'll be at the Iron Horse on Thursday. That's where he belongs.
"Oh yeah, absolutely," Robb says.
For five decades this has been his home away from home. He's there to chat with customers, encourage employees, eat breakfast or lunch, and oversee operations.
If there is a face of the Iron Horse, it belongs to this man.
On a Friday afternoon, Tom Robb is sitting in his iconic restaurant on Sherman Avenue. It's quite busy. An older couple is seated in a corner cabin, a family in another. A trio is seated at a table by the front window. Four people enter and are escorted to a table.
Robb, relaxed and friendly, wears a gray sweater. Her white hair is swept back. You can feel the pride as he surveys the scene.
He loves people. That's what kept it going year after year after year.
"We meet so many amazing people in this industry, and it's really rewarding," he says. "My favorite thing is the people. Over the years we've had dead employees knocked down or some who were so loyal it was unbelievable. These allow you to continue.
He needed that dedication to get by during COVID-19 which made workers hard to find.
Even for a place like the legendary Iron Horse, survival isn't easy in this industry.
"It was tough. Two difficult years," he says. "The biggest problem was getting qualified workers to apply. Besides, anyone to apply. It's a little better now than before. »
Robb still comes to work every day, although he leaves business decisions in the hands of his sons, Aaron and Mike.
Aaron Robb ran day-to-day operations at Coeur d'Alene for about 25 years, while Mike operated the Spokane site for nearly as long – with guidance from their father.
"I'm involved in the business," says Tom Robb, "but Mike and Aaron make the decisions. If I don't like a decision, I'll say something about it. But I don't use any pressure or anything like that."
The pressure does not suit him. Robb is a simple man. He says what he thinks. And it's not all sunshine and rainbows.
"A lot has happened. Some good, some bad. Small business is always a challenge, but we have no complaints. You know, plug along. Our Spokane store is doing very well. good. Our bar sales here are strong."
Robb is proud that the Iron Horse, 407 E. Sherman Ave., has lasted 50 years. These two words in green, "Iron Horse", look at the dining room.
"I don't know how many restaurants have done this, at least under the same ownership and management," he says. "It's gratifying, in a way. But we have our scars from all those years."
Fifty years was not something he envisioned when he opened the Iron Horse on June 2, 1972. Barbara Renner was a business partner until 1991.
Then he never imagined it would be around 2022 and he would be sitting there talking about a birthday party.
"I said to myself, 'I'm going to do this for three or four years, and then I'll move on,'" he says.
He and his wife Mary considered moving to San Diego, but changed their minds.
"I'm glad we didn't," he says.
Changes are coming to the Iron Horse, though Robb isn't ready to say exactly what.
"We went down to the original brick walls, which is around 1910. And this floor is the same and we're waiting for it to be finished," he says. "We will see how this piece evolves. I wouldn't say anything is chiseled in gold right now.
But something is about to happen to give the Iron Horse a new look.
"I just can't tell you exactly what they are," he smiled.
While Robb agrees that the Iron Horse has been a downtown mainstay and influenced generations, he refuses to take credit for its success. He gives that to his sons, his wife, his staff, his customers.
Anyone but himself.
"I'm not comfortable looking up to myself because I'm just one of the cogs," he says. "But I think just being here for 50 years kind of speaks for itself. Hardly a day goes by that people don't talk about it, so it's rewarding.
Tom Robb loves Coeur d'Alene. He says there are "a lot of great people in this town. It has to be the prettiest little town in the United States. There are so many smart people. You know, I am in awe of these people.
Still, he admits he worked a lot on the Iron Horse. Lots of heart and soul, blood, sweat and yes, tears too.
"We have survived two or three recessions. We survived 22% interest rates in the 1970s and things like that," he says.
"As I sit here today, financially we're pretty good. But it's quite fragile, as you know," Robb says.
He says that every night when he goes to bed he worries about business related things.
"I don't want to say that I sit around and worry all the time. I have so much experience now. But you know, it's not a role you like to play," he says. . "What's really tough is when you owe a lot of money and you're in a recession. It's tough.
"If you can get to a point where you don't owe any more money, and that's what we're all working for, then that makes it a whole lot better."
Robb has no intention of retiring. May be later. But not right now.
"I come to work every day. I told Mary a while ago that I wasn't going to retire. I've always used the example, 'I'm going to be like Doc Holiday. I will die with my boots on.' "
He needs to relax. For that, he heads to the family cabin on the Coeur d'Alene River, which he calls a godsend.
"It's 50 miles from where you're sitting, maybe 600 miles as well," he says. "Because when you're up there, it pulls you into a different medium."
But the pull of the Iron Horse, after 50 years, is stronger than ever. He can't resist it. He nods, and he comes back.
You will find him there in the morning and he usually returns home around noon.
Some days, however, he stays later. He is watching. He listens. He smiles.
"That's where I like to be," Robb says.