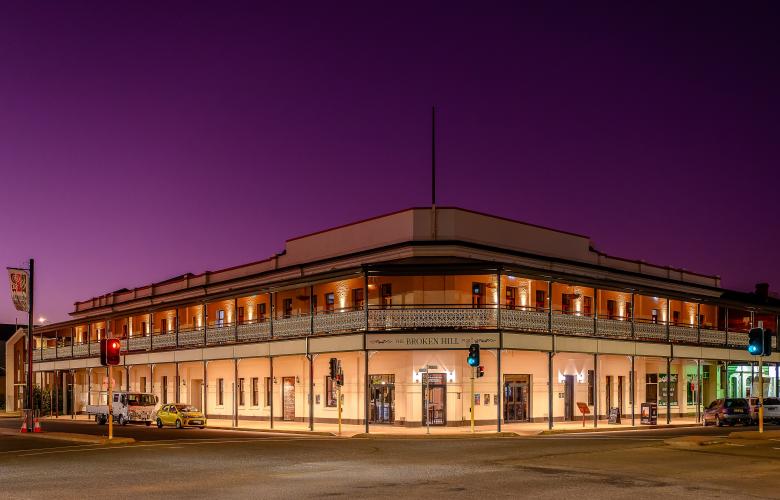 JLL Hotels & Hospitality Group is delighted to offer for sale the freehold interest in The Broken Hill Pub.
The Broken Hill Pub is arguably the best pub in town and occupies a 1,827m² corner block at the intersections of Oxide and Argent Streets. The venue provides an excellent platform for an experienced hotel operator to enjoy immediate interaction with the pub featuring an impressive bar, restaurant and reception areas. Affectionately known as "The BHP," this popular venue comes to market after a multi-million dollar renovation. The sellers have exclusively engaged Greg Jeloudev, director of JLL Hotels, and his colleague Kate MacDonald to offer the place for sale as part of an expression of interest process.
The Broken Hill Pub is primarily a food and beverage business that has recently been repositioned as a fine dining venue. The weekly trade is currently showing total sales of $61,000, with that figure continuing to grow. The pub's infrastructure includes extensive ground and first floor operating areas which include several bars, dining areas and an extensive beer garden. The first floor includes an impressive balcony which can be used as an additional outdoor dining area or reception space. There are still assets to materialize with the creation of accommodation rooms, including the creation of a presidential suite. These first floor areas remain in their original state and provide a blank canvas for a creative eye.
Located in the far west of New South Wales, Broken Hill is known as "The Silver City" due to the region's strong mining economy. The city has been recognized as Australia's first heritage city for its outstanding value to the nation. Broken Hill is rich in art and is surrounded by rocky red earth that is emblematic of the Australian outback. There is also a strong tourist trade in the town as it is a focal point for western New South Wales.
Mr Jeloudev cites the impressive building, immediate inbound trade and accommodation as a lucrative proposition for an experienced hotel operator.
"The scale and layout of the BHP is truly something to behold. There is a fantastic opportunity to enjoy immediate income from this impressive asset with an added benefit to be created through a hosting offering. The BHP would certainly be a Fantastic addition to any hotel/property portfolio and an inspection certainly won't disappoint," Mr. Jeloudev noted.
The freehold interest in the Broken Hill Pub is being offered for sale via Expressions of Interest ending Thursday, July 28 at 4 p.m., if not previously sold. To receive a copy of the information memorandum, the sales contract or to arrange an inspection, all interested parties should contact the exclusively appointed agents.
For more information, contact the agents below.