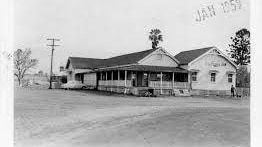 George Martin has seen and heard a lot over the half century of shooting beers behind the bar at the Tabulam Hotel in northern New South Wales.
Mr Martin, who just sold the pub, believes one of the oddest ones was when a few locals rowed – literally – for a drink.
"This has never been seen before, not in Tabulam.
"They couldn't go anywhere so they all had drinks."
First job: cleaning the toilet
In 1954, Mr. Martin's parents moved from Townsville to Tabulam and when he left school, around the age of 16, he started working in a pub.
"My first job at the pub in Tabulam was to clean the toilets," he said.
"And being on the 'emu parade' up front as my dad called it.
"[That means] cut wood and run the old kettle and copper.
"As we went along and I got older, I sat behind the bar and got to tell a lot of stories about it."
Mr Martin said he enjoyed the "contact with people" that came from working in a pub.
"You get to know them and get along with them well," he said.
The end of an era
The Tabulam pub has been in the Martin family for 67 years.
Despite the many good memories, Mr Martin, now 78, said now is the time to sell and move on.
He said his retirement plans with his wife included working on their house in Tweed Heads and getting out "and going" if the coronavirus situation changed.
As for spending time on the other side of the bar, he said the time he would spend inside the bars would be considerably less.