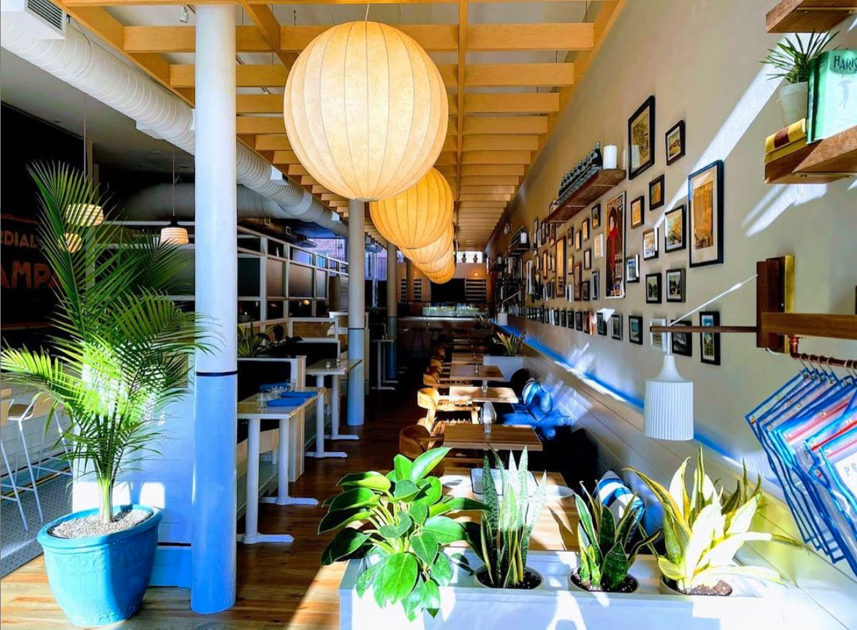 Don't change your mindset for fall and winter just yet, Cincinnati has received a terrific new addition to its dining scene – PearlStar Oyster Bar recently opened in the Over-the-Rhine neighborhood ( OTR).
Located at 1220 Vine St. in the former A Tavola storefront, PearlStar has a fresh new interior, menu and vibe. Terry Raley – Nashville restaurateur and former Senate executive chef, who now runs the kitchen at PearlStar – along with Culinary and Operations Director Leroy Ashley, have created a trendy new space. People of all ages can take advantage of PearlStar's simplified light fare menu.
PearlStar's interior design is hingedly crafted to resemble a seaside town feel. Green-glazed potters holding tall palm trees or textured snake plants create an intimate oasis. The main dining room is filled with light wood benches backlit with soft blue light to illuminate the gallery above. The fixtures play with each other to create a layered environment, mixing modern and eclectic styles.
The kitchen is simply separated from the main dining area by laminated glass and a thin strip of small open windows, as a metaphor for PearlStar's value of bringing fresh oysters from every rib to your plate. Vintage artwork, signage, and photographs throughout the space complete the simple color scheme. The bar is colorful with a beverage display, flap canvases and brass details. Stepping out into the courtyard, vintage-inspired red umbrellas, white benches, a bocce ball area, and a large green wall with restaurant signage displayed confidently.
When my party of three sat down we were given a light blue menu with all the oysters of the day and sides. We chose six different oysters, then the smoked trout mousse side – $ 12 or market price. Each oyster ranged from $ 3 to $ 3.50 each, or market price. Our three must-see oysters are Beach Point, a sweet and brackish semi-barreled oyster that pairs perfectly with the contrast of horseradish; the Boomamoto, a robust full brine; and finally in third place, Savage Blondes, very clean taste.
We topped the Savage Blondes with PearlStar's special hot sauce, and it was the perfect match. The smoked trout mousse was presented with perfectly oiled and toasted bread to spread the mousse, and a mustard side, which gave it a nice flavor. This side dish was unique, sweet and tasty, but best to share at the table.
Another passing guest stopped by to enthusiastically urge us to order the Miso Kale salad, $ 12 or market price, and the baked oysters, also $ 12 or market price. We did, along with many other dishes. The Miso Kale salad had a simple dressing with a crunchy detail and a Parmesan flavor due to the Grana Padano cheese.
The Brussels sprouts mix, $ 8 or market price, was exactly what I wanted with a slightly crispy exterior but that tender interior that any fan of Brussels sprouts adores.
Finally, our table indulged in baked oysters and seared scallop tostada, $ 16 or market price. The oysters came in threes on a beautiful, "Rockefeller" style platter, making a slight crunchy toppings but a mild, cheesy and buttery flavor. They were seafood in the fall dream. It was at the top of our table's favorite side dishes list. The tostada consisted of chorizo, avocado, serrano, lime cream and shallots. The serrano chili added a nice amount of heat and smoke to the dish just when you thought it would be a simple, sweeter taste.
PearlStar is an extremely affordable place in OTR to enjoy with college friends and embrace the region's ever-changing food scene. It offers delicious, light food with superb seafood dishes and a warm seaside atmosphere. I will definitely be back, and hope you go too.