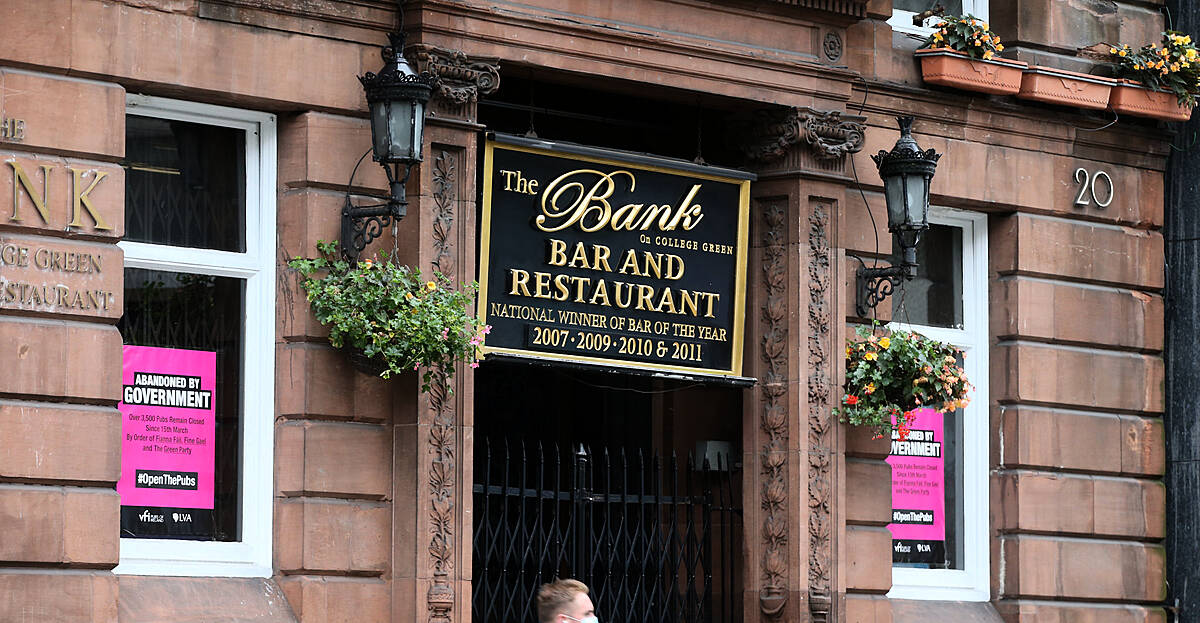 A Dublin pub owner said it was "not acceptable" to have such uncertainty and confusion around plans to reopen the hotel industry.
David Chawke, owner of Bar Bank on College Green, says no other industry is treated the same as his industry – noting that "the goals keep changing" when it comes to reopening pubs and nightclubs.
He was speaking amid the lingering confusion over the exact details of the reopening next Friday.
Different rules are also likely to apply for nightclubs compared to pubs and bars.
Minister of Arts Catherine Martin asked musicians and halls to "stand with us" for another 24 hours while guidelines are finalized.
Meanwhile, Chief Medical Officer Dr Tony Holohan said the industry and customers need to "get in the spirit" of current rules, such as verifying COVID certificates.
He says he also believes there needs to be greater enforcement of these rules.
However, Mr. Chawke Recount The hard shoulder you cannot blame the industry for any uncertainty when it is not even clear who is responsible for the enforcement.
Sean Defoe of Newstalk did some research this week to find out who is actually responsible for the enforcement of certificates.
He found that the responsibility lies with the Health and Safety Authority (HSA), in consultation with the HSE.
Who is really responsible for the application of the vaccine certificates?@SeanDefoe got the answer for @PatKennyNT pic.twitter.com/hYvWZNwO69

– NewstalkFM (@NewstalkFM) October 19, 2021
Mr Chawke observed: "It's supposed to be in place for a few months – it wasn't the HSE, the guards or Fáilte Ireland. Now we hear it's the HSA.
"Until a couple of years ago the HSA was understaffed anyway. I don't know how they put this plan in place to visit sites across the country and do these checks.
He said handing this over to the HSA – which is generally responsible for health and safety inspections – "doubles or quadruple their job."
He said he himself had tried to find answers to what was going on, but that "the goalposts keep changing".
"Blame game"
The publican suggested that the area is the "last to hear it all ", and expressed his frustration with the" blame game "that occurs when there is a spike in cases.
He said: "This is beyond a joke. Each time… it's the same. If NPHET and the government and HSE want to restart a blame game or point the finger again… they can look a lot closer to home.
"We did what we were asked … we did everything. But you can totally understand when people don't know what's going on – who's in control, what's going on.
"It's not just our industry, but it always comes down to 'here are the tax collectors again.'
"We are the last [country] react, and then we hear "maybe if we stick to the spirit a little more". It is shameful behavior. "
Mr Chawke said it was no surprise that there is a staff shortage in the hospitality industry, when there is such uncertainty about the situation facing publicans, nightclub owners and hospitality workers.
He said: "The staff and owners of the nightclub are sitting listening to this, 24 to 48 hours in advance, [unsure] if they are going to be able to return to work.
"It is not acceptable – it does not happen in other industries."
Main picture: The Bank Bar on College Green in Dublin. Photo: Sam Boal / RollingNews.ie