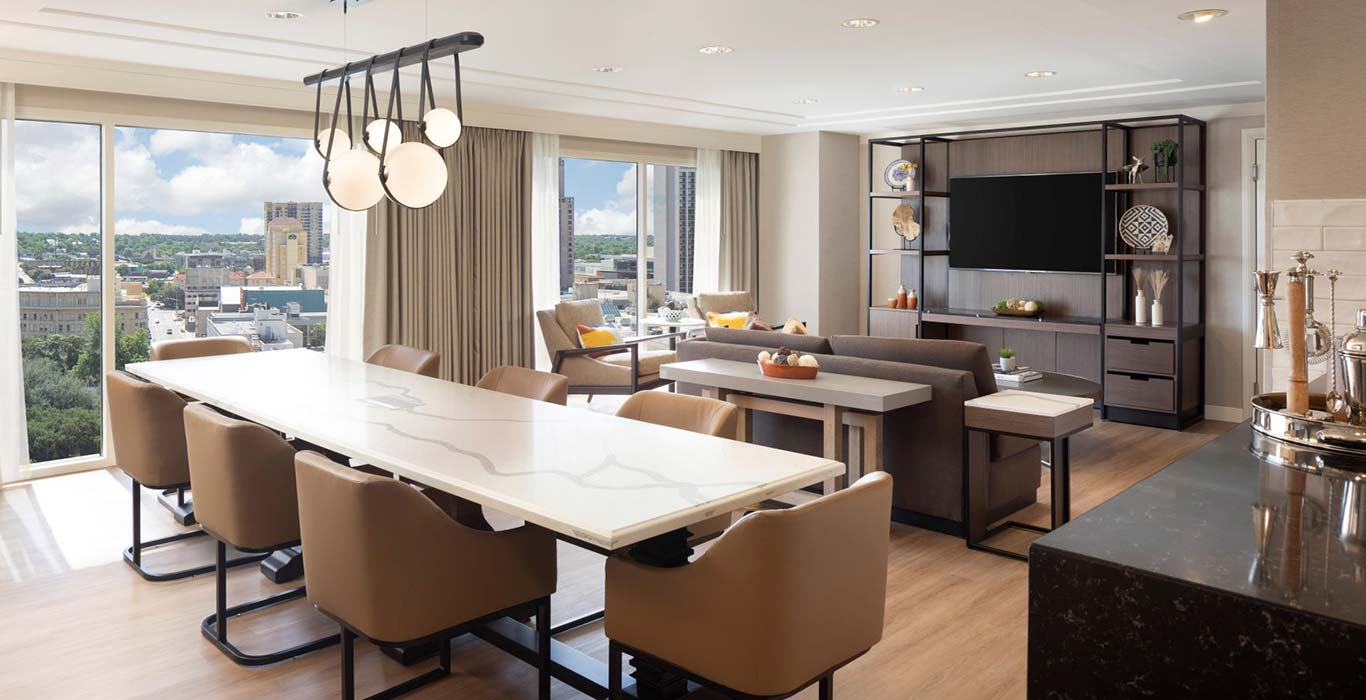 A $38 million renovation has been completed across all 630 rooms Hyatt Regency San Antonio Riverwalk. The project updated 602 rooms, 28 suites and some public areas of the South Central Texas hotel.
"We are delighted to celebrate [our] 40 years in the San Antonio community with a vibrant new chapter for our iconic River Walk hotel," said Philippe Stamm, Regional Vice President and General Property Manager. "We made this investment in our hotel and community to complement the revitalization of downtown, from the renovation of Alamo Plaza to the many updates that have been made to our nearby museums and attractions."
The rooms now have wooden floors and carpets in amber tones. Rooms have a light, airy color palette with denim-accented walls and fireplace-inspired wooden structures that double as wall mounts for 75-inch flat-screen TVs. New amenities include mini-fridges, updated furniture and desks with installed lighting and built-in electrical access. The suites have been transformed to serve as both luxury accommodations and places for social gatherings and small events. Now behind sliding barn doors, the bathrooms have been redesigned with marble showers, sinks and granite countertops.
Guests can dine at Q Kitchen | Bar, which serves American standards with a Tex-Mex twist; the restaurant offers a private dining room that can accommodate up to 10 people. Fresh seafood and raw bar make up the menu at On the Bend Oyster Bar & Lounge, and takeout is available at Mkt. Place the coffee. Mad Dog's British Pub welcomes diners on the River Walk level. The hotel offers 37,000 square feet of meeting space, including a 10,000 square foot ballroom.