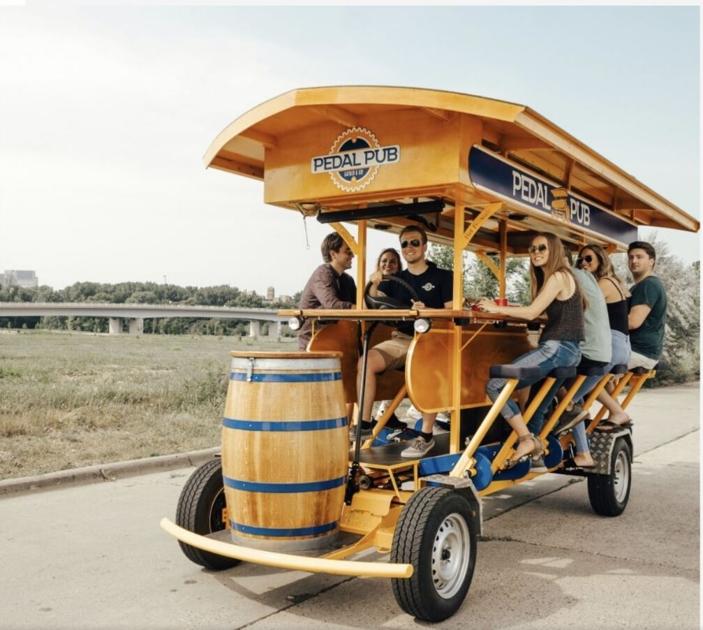 Party bikes arrive in downtown Baton Rouge.
Two couples are set to open a local Pedal Pub franchise in the capital this fall, offering wet bike tours throughout the city center.
The expansion of the Minnesota-based company in Louisiana is dependent on the Metro Council passing amendments on Wednesday that would add horse-drawn carriage business operations to the city-parish ordinances code.
"For starters, we'll be running weekend tours no later than the end of September," co-owner Chandra Piert said. "And we're looking to grow. We're already in discussions to get directions around LSU and the University of the South and really capitalize on Game Day opportunities."
Party bikes are basically pedal caravans that can accommodate a minimum of four people and up to 17, depending on whether or not a driver is driving the ride. Pedal Pub has over 50 franchises in cities across the country.
Routes are determined based on low traffic impact, parking availability, bar and restaurant partnerships, low grade, and points of interest.
Piert said the Baton Rouge franchise will open with two party bikes if the metro board passes the ordinance changes. They will also have a brick and mortar storefront downtown, where party bikes can be hired.
Piert and her husband, both from Lake Charles, came up with the idea of ​​starting their own franchise after setting one up themselves during a visit to Houston last year.
"We thought it was such a unique concept," she said.
After doing some research and partnering with Karl and Ashley Thomas, natives of Baton Rouge, they decided to open one in Baton Rouge. They believe the city would have the best demographics to support the effort, with both universities and the downtown landscape.
The proposed changes to the Metro Council ordinance this week will review established rules for licensing, inspection and operating fees, as well as guidelines on how and when alcohol can be served on bikes from Party.
Gabriel Vicknair, interim executive director of the Downtown Development District, expects party bikes to offer visitors another interesting and new way to explore downtown. He also said his office was working with owners on routes and opening times to address concerns about safety, traffic and noise levels.
"It could potentially be a new way to bring business to restaurants and bars," he said. "But we want to put the routes on corridors that see the minimum amount of traffic on weekends and that are away from residential areas."
"The last thing we want are people partying, making noise and disturbing our residential areas," he added.