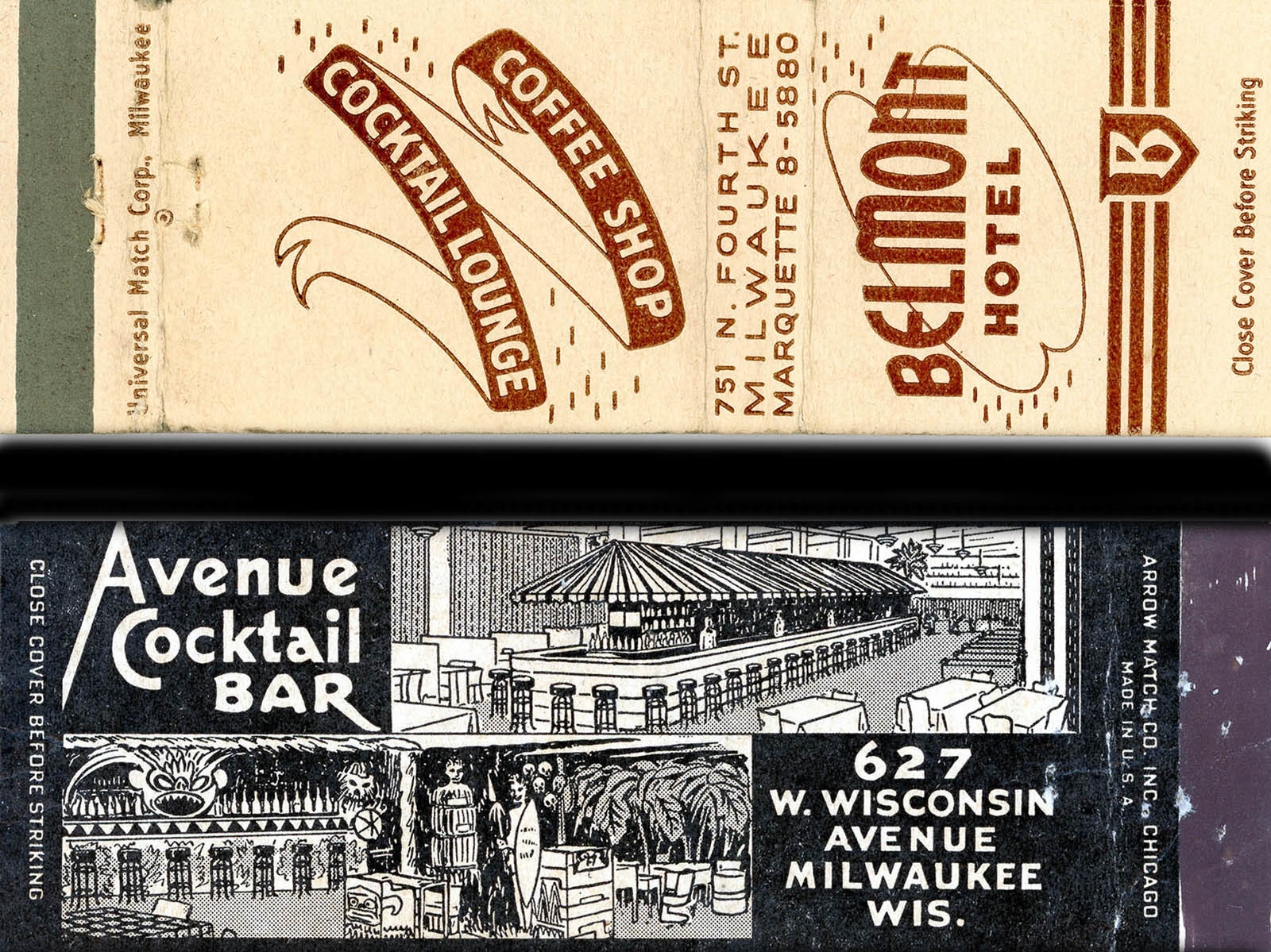 Back in the days when smoking was much more accepted in public places, matchbooks were a primary method of promoting one's business, especially in hospitality and retail games.
Bars, restaurants, bowling alleys, hotels … just about everyone had a supply of matches for smokers and these matchbooks – often beautifully designed – praised the place that offered them.
While we don't see so many promotional matchbooks anymore, thankfully there are collectors out there who strive to keep great examples. One of these collectors – Adam Levin, who manages the Old Milwaukee Group on Facebook – shared some gems with us.
Enjoy this gripping look at some old Milwaukee businesses, via their matchbooks.
Avenue Cocktail Bar
Dating back to at least the late 1930s, the Avenue Cocktail Bar was, as you can see from the matchbook pictures, a Polynesian Tiki-themed lounge, also known for its Cyclone room and entertainment. live music. In May 1960, two bartenders were arrested for allowing minors to enter and by early 1961 the bar was closed. After a brief period of attempted sale of Avenue, its lights were auctioned off. The site is now occupied by the 1966 Greyhound Building, later renamed Clark Building after it was purchased by Emory Clark of Clark Oil.
Belmont Hotel
The Belmont was built in 1926, according to plans by architect Martin Tullgren, on the southwest corner of 4th and Wells. During its last decades, it had become known as a sort of low-rent residential place, with a well-known bar and hair salon. It was demolished in 1996 to make way for the new convention center, but its iconic sign remains a lasting memory for many.
Chris Coins
The true story of Chris Corners is the loving story of Anne and Jim Vollmar, who ran the bowling alley, founded by Anne Chris' father, for over 40 years along with Anne John's brother and wife Marion. The two couples married in a double ceremony in 1941 and celebrated their 50th anniversary together at Chris Corners in 1991. They sold the business the following year. In 2002, Anne and Jim died 25 hours apart.
Erdmann's Tavern
Located in a building, now razed, on the northeast corner of the 26th and Lisbon, John Erdmann's tap worked until 1977. After an armed robbery that year, the place was put up for sale and was replaced by Mike's Tavern, which operated in the 1980s. By 1933, the business was run by Wendelin Kraft, described in a newspaper as "the state organizer of Wisconsin Tavern Keepers Association ", in 1935, it was already operated by Christopher Erdmann, John's father. A new industrial building was erected on the site in 2002.
Kohl's
Kohl's doesn't need to be featured here and this beautifully crafted matchbook is a reminder of the company's roots in the Milwaukee grocery store. Maxwell Kohl started grocery shopping in 1927 and opened his first supermarket 19 years later. In 1962 it was the largest grocery chain in the state and a decade later when a controlling stake was sold to British American Tobacco it had 50 grocery stores, three liquor stores, three pharmacies and six department stores. A&P, which bought the grocery stores in 1983, closed them 20 years later.
Paradise garden
Located in a striking modern 1960's building on Capitol Drive just east of Highway 100 which had been built as the Golden Chicken location, Paradise Garden opened in 1961 after an explosion and fire that shut down its predecessor . It is not known whether the "new" Paradise Garden was related to the restaurant of the same name that opened in downtown Milwaukee in the 1920s, although it seems unlikely. The last reference I find at the restaurant – the building of which is now occupied by a religious bookstore – dates from 1979.
Pig whistle
Opened as a drive-through by Bob Normoyle in 1938, the Pig'n Whistle has become famous not only for its Big Chief Burger, but also as an ice cream landmark. It closed in 1992 and was replaced by a family restaurant. More recently, the building was razed and replaced by a residential development.
Port routes
Port Lanes opened in August 1962 at Brown Port Shopping Center and quickly became a popular bowling spot. It closed in 1992 and was replaced by a dispensary. His matchbox design is among the most eye-catching examples.
Ritz Tavern
Although the building is still there, housing a liquor store, the Ritz Tavern only survived into the 1990s. It opened after repeal at 36th and Center, but moved to 3729 W. Center in 1936, where "Rudy (Krueger) and Les" boasted "the longest upright bar in town, outside of downtown." It appears that another Ritz opened at 25th and Fond du Lac in 1938 and thereafter, Krueger alone ran the Center Street location. Perhaps a feud led Les to open a competing Ritz, or maybe the two Ritz taverns belonged to the pair. If you know, let me know in an email.
by Strachota
Strachota's Milshore Bowl operated on Capitol Drive from 1953 to 1994. When it opened it was considered state-of-the-art, boasting of being "refrigerated air-conditioned, (with) fully automatic pin detectors. , no pinboys ". The site is now located under an Aldi parking lot. By the time Milshore opened, Les Strachota had been running Regent Lanes since at least 1941 in a handsome building located at 40th and north. Regent closed around the time Milshore did.