A new sushi and ramen restaurant has opened at 21 West End Avenue, between 60th and 61st streets.
Suram – named for the combination of its sushi and ramen menu – is bringing a longtime sushi chef to the area with the backing of a tested and local favorite. (Thanks to Katie Lorene Havener for the tip).
Chef Frenky Indarto, formerly of the iconic place of West Village Sushisamba, has the full confidence of owner Jonah Phillips (also owner of Pastrami Queen and Friedman's). "It's the man. He stocks up on excellent fish. We're very excited, "Jonah tells us.
Some of Indarto's designs quickly became customer favorites. Salmon carpaccio, yellowtail jalapeno, and crispy rice are all hot dishes, according to the waiters. The extensive menu offers a variety of hot and cold options with three types of ramen, over 15 types of rolls and sushi, and sushi bar starter options that include unagi don, chrashi, and tricolor sushi.
Suram also offers eight different choices of its signature tuna makis (spicy or crunchy), shrimp tempura and salmon. Diners 21 and over can enjoy four different types of sake as well as wine and beer.
The restaurant currently seats 16 indoors and has outdoor seating. But Suram is open to change. Phillips mentioned that there might be room for three tables inside, but wants to listen to restaurant customers and respond based on their comments.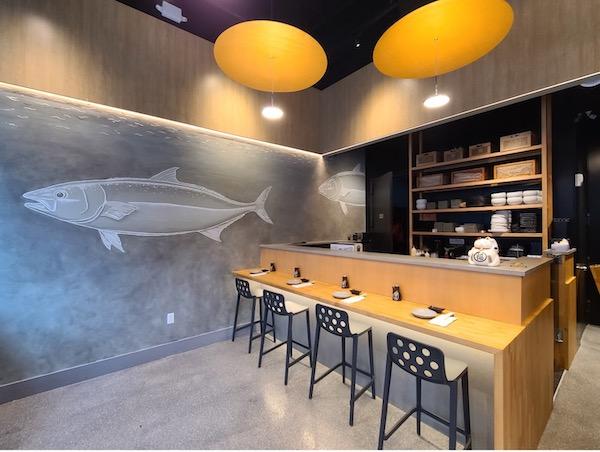 "We believe in the Upper West Side and know the neighborhood," Phillips said. "It needed a sushi restaurant and I felt like this was the place."
Suram is located at 21 West End Avenue between West 60e and west 61st Streets. Current times are subject to change, but Phillips said "PM only for now from around three am to nine am. Closed Mondays and maybe from 12 p.m. to 9 p.m. soon.
There is no official website yet, but delivery is expected to start next week. Customers can reach the restaurant at 212-557-1000.
Note that the menu says cashless, but Jonah said that was no longer true because he hadn't bet on local school kids who came with cash.