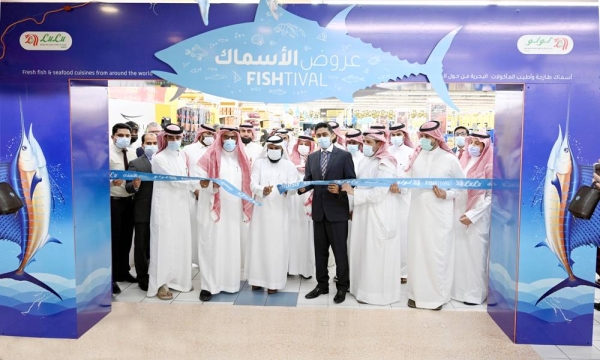 RIYAD – Hey! The flagship hypermarkets of the LuLu group have just anchored themselves with the most delicious and healthy premium marine – the catch of the day from all over the world.
The "LuLu Fishtival" will take place from December 1 to 7 in all LuLu stores in Saudi Arabia. The weeklong festival was launched by Dr Ali Mohammed Alshekhi, Director of the General Fisheries Department at the Ministry of Environment, Water and Agriculture, and CEO of the National Program for the Development of the Fisheries Sector. fishing, in the presence of. Shehim Mohammed, director of LuLu hypermarkets in Saudi Arabia, at a ceremony held at LuLu Murabba hypermarket in Riyadh.
Fresh fish of the day as varied as Norwegian salmon, Nile perch, everyone's favorite shrimp, local Sheri and King Fish, large farmed prawns, black sea bream, fresh crab, cuttlefish, tilapia and many varieties that LuLu's expert fishmongers will cut, clean and -os for you, if needed.
"The Kingdom of Saudi Arabia is well known for its incredible marine life as well as for the traditional dishes of Arab cuisine based on seafood. To showcase the country's richness in fresh seafood, this festival features the best of our fish and seafood offerings, with a range of fresh, grocery and cooked products, which is made possible by the strong global food supply network, "commented Mohammed.
"We also proudly support our local products, being the biggest promoters of SAMAQ certified products, which showcase the products of the Saudi Aquaculture Society's National Aquaculture Product Certification and Labeling Program under the leadership of MEWA." , he added.
In addition to showcasing fresh catches from around the world, LuLu's fish counters will also be full of frozen and prepared fish, such as frozen crab sticks, mussel meat, seafood cocktails, herring steaks. smoked, light meat tuna and much more.
Seafood lovers can delight their taste buds with a multitude of ready-made fish delicacies: spicy biryani fish or masala fish, Kadai shrimp, Oriental Manchurian fish in sauce, light garlic and spicy tuna meat or try the expertly prepared local specialties: assorted grilled fish, samak sayadiya or grilled fish strips. – SG