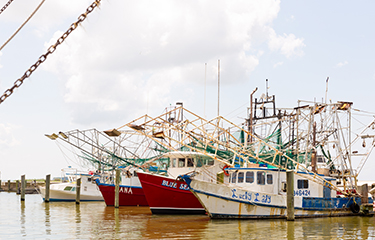 Legit Fish partners with Mission Driven Meat & Seafood and Big Easy Foods as the company continues to expand the species covered by its full traceability program.
Traceability company based in Boston, Massachusetts, United States Legit Fish first launched its new traceability technology at Seafood Expo North America in 2019, and continued to work with ButcherBox to provide fully traceable sea scallops to e-commerce customers. As part of its latest partnership with Big Easy Foods and Mission Driven Meat and Seafood, the company plans to offer fully traceable wild Gulf of Mexico shrimp to e-commerce customers this summer.
"We are going to integrate a new national shrimp program that will hit the market. It's going to be launched in the next two to three weeks, "Dana Bartholomew, executive vice president of business development for Legit Fish, told SeafoodSource.
Legit Fish itself has grown with the hiring of two seafood veterans: Philip Walsh and Doug Brinsmade. Walsh is a former executive of Alfa Gamma Seafood and Australis, and Brinsmade is a former executive of The Fishin 'Company and Fortune International.
Prior to working with Legit Fish, Brinsmade worked with Houston, Texas-based Mission Driven Meat and Seafood to lead the company's seafood category, company founder Sam Freedman told SeafoodSource. .
The Mission Driven model, Freedman said, is about applying the supply chain model that has been successful in retail and applying some of it to e-commerce companies like ButcherBox and others.
"We started our business a little over two and a half years ago, and the premise is that we wanted to take the traditional meat and seafood model that has worked in retail and foodservice for decades. decades and decades and apply it to the unique needs of e-commerce, "he said.
The business, he said, is primarily used to consolidate vendors for e-commerce businesses that may have a "one-stop-shop" for their protein needs, instead of having to go to multiple individual vendors. for each item.
"We create our margin and our value, and customers can reduce costs and carbon footprints and save a tremendous amount of time by purchasing their protein across the board and having it delivered in one truck," Freedman said.
Freedman's track record, he said, is in the meat, with his family in the business for "a few generations." However, when Mission Driven started trying to add seafood to its catalog, it ran into some difficulties.
"What I struggled with while we were building this model is maybe I'm jaded because I've had people to help me skip these mistakes in the meat, and I don't haven't made it into seafood, but it seemed like every seafood I encountered was a challenge, "Freedman said." It was like seafood was a bit of the wild west and Savage."
This is where Legit Fish served as a bridge to feel more secure in its seafood supply, Freedman said. The company's traceability – which links its records to official government catch records – has helped it ensure the traceability of its products.
"If I have to hang my hat on one thing and I want it to be transparent and real, that seems like a really good way to do it," Freedman said.
Mission Driven begins with fully traceable Gulf of Mexico shrimp caught by Big Easy Foods. Big Easy, based in Lake Charles, Louisiana, started over a decade ago in the sausage and blood sausage market, and turned to shrimp after acquiring a national shrimp processor.
"Our hope is that this innovative program will continue to strengthen our commitment to transparency in the supply chain of our products, from ship to consumer," Big Easy Foods senior vice president Derrick Nagle said in a statement. . "This effort supports our sustainability initiatives for our customers and supply chain partners. We are delighted to be the first in the Gulf shrimp industry to bring this innovative technology to our valued customers. Consumers are more interested than ever in knowing the origin of the food they eat.
The shrimp is just the start, like the company plans to go into cod, sockeye and scallops later, Freedman said, According to Bartholomew, Legit Fish is also "building the next wave" of its systems and technology to enable it to provide even more robust traceability solutions for more seafood.
The Legit Fish model, Freedman said, has helped him pursue his company's mission of providing sustainable options for e-commerce platforms.
"I like having taken my family business to a new generation and doing it in a more sustainable context," he said.
Photo courtesy of Mission Driven Meat & Seafood / Big Easy Foods