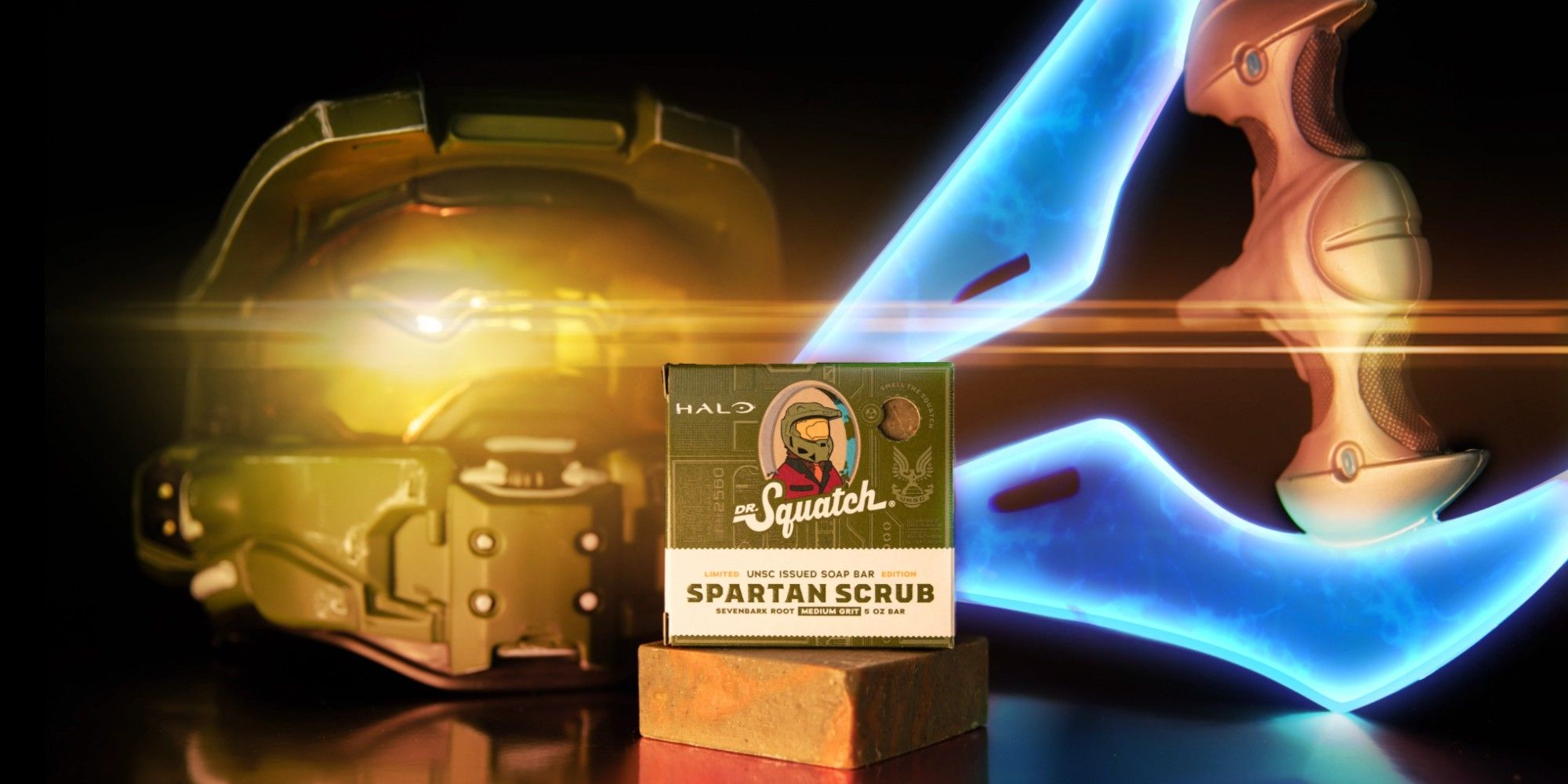 Need a new soap to refresh you after a long day of battle with Master Chief and his fellow Spartans? Dr Squatch has worked with Microsoft to bring you a limited edition bar of soap called Spartan Scrub.
The soap company said the Spartan Scrub will help you "feel energized, focused and ready for any challenge in the game or in life." He concocted the bar of soap with "a blend of herbs rooted in the Halo lore to help revitalize and soothe battle-worn skin," and will leave you smelling as good as Master Chief.
Related: Halo Infinite Won't Live Up To The Original Trilogy, And That's Good
According to the official description of the soap, collected by GameSpot, the soap's "unique exfoliating and soothing ingredients are all drawn from the Halo universe, including Sevenbark Root, Little John and Bishop's Wort. The aroma has been carefully formulated with silver sage, yuzu and cedarwood. , and its color inspiration is an ode to Spartan's green Mjolnir armor and the iconic orange visor of the Master Chief helmet. "
The soap ingredients look cool, but the soap makers haven't really gone to the world of Halo to put these ingredients together. The company said they were made from natural oils and other sustainably sourced ingredients.
Starting today, Dr. Squatch subscribers can pre-order the Spartan Scrub for $ 6. Halo fans who aren't subscribed will have to wait until November 1 to purchase it for $ 8.
This isn't the first time Microsoft has dipped its toes in the body care water. In the summer of 2019, Xbox ANZ partnered with Lynx (or Ax in the US) to create Xbox shower gel and deodorant exclusively for fans in Australia and New Zealand. Let's just say that Seamus Buckley was not too happy on the existence of the body care line.
Spartan Scrub is a fresh and interesting addition to a line of Halo-themed merchandise being made for the franchise's 20th anniversary. King Ice has released a line of Halo gold chains featuring Master Chief's diamond encrusted pendants, Master Chief's helmet, the Needler, and the Energy Sword. Microsoft is also launching a custom Halo Xbox Series X Limited Edition to celebrate Xbox's 20th anniversary and the upcoming release of Halo Infinite, which will be released on December 8.
Next: Master Chief Would Have Been Perfect For Smash Ultimate
Modder gives Arthur Morgan the ending he deserves
"You can't live a bad life and have good things happen to you."
Read more
About the Author