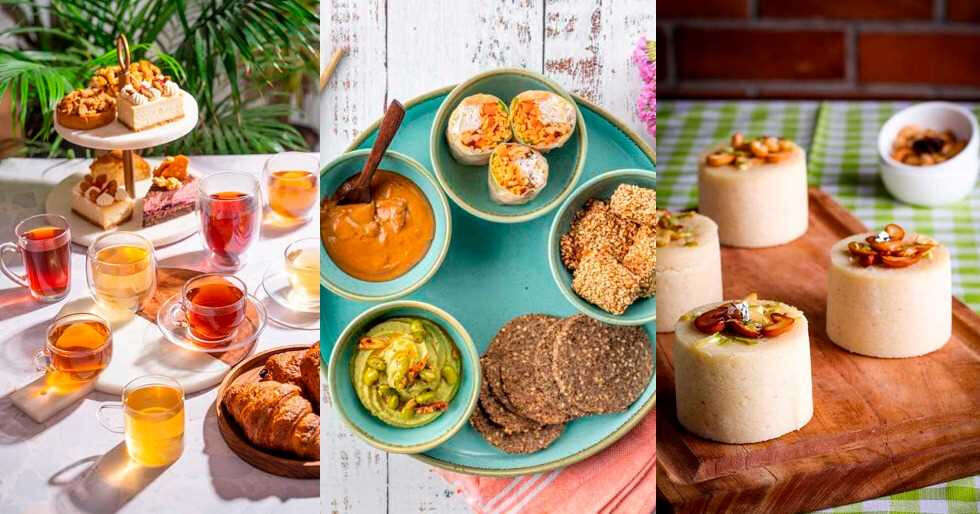 High tea at Smoke House Deli Tea Room, Ravo at Sassy Spoon
Food news you can use: Here's a roundup of what's new and hot in Mumbai's food and drink world
Deli Tea Room: Tea Time
Smoke House Deli (SHD) has introduced the Deli Tea Lounge, a place where you can spend a quiet evening on your own or host a tea party. Expect to find exotic teas: Autumn Crescendo, Autumn Oolong and Earl Gray with a hint of bergamot, to name a few, as well as the exquisite Moonshine Long leaf tea with sweet honeysuckle notes.
SHD has partnered with the Glenburn Tea estates in Darjeeling, and you will find the special Smoke House Signature blend, made with Darjeeling tea from Glenburn and Assam leaf tea from Khongea, in which the flavor and aroma subtle hints of Darjeeling leaf pair well with rich, malty Assam tea.

To accompany your teas, choose from pastries and pastries such as pain au chocolat, cinnamon buns, croissants, finger sandwiches and small snacks such as avocado cream cheese sandwich and curry egg salad crostinis.

When: 4 p.m. – 7 p.m. weekdays
Or: Smoke House Deli outlets in Mumbai (also in Delhi and Bengaluru)
Parsee Bhonu by The Sassy Spoon!
Bring on the Parsi New Year – March 21 – at Sassy Spoon resto-bar. Treat yourself to The Parsi Bhonu, a limited-edition Navroz menu of Iranian specialties with a modern twist at the outposts of Powai and Nariman Point.

The festive spread includes appetizers including Cyrus Dastur's Shrimp Patio on Khari Toast, Chicken Farcha and Mixed Vegetable Patio on Khari; dishes such as Caramelized Brown Rice with Dhansak, Berry Mutton Pulao with Kachumber, Patrani Macchi and more. Finish the meal on a sweet note with sweets like Memas' Ravo (above)Lagan Nu Custard and Bun Maska Marmalade Pudding.
When: Until March 31, 2022
Or: The Sassy Spoon, Nariman Point and Powai, Mumbai
Send Mithai New-Age from Bombay Sweet Shop across India
Now old fashioned sweetness can be delivered all over India. Bombay Sweet Shop candies and namkeen can be sent to friends and family across the country. Bombay 3-Layer Chocolate Fudge, Chocolate Toffee Bars, Caramel Toffee Cookies, Indian Jujubes, Bombay Bhel Chikki, Khasta Kachori, Chilli Cheese Bhujiya and many more are offered, all 100% vegetarian.
How? 'Or' What: Order via the site or on Amazon

The plum blossom menu in Hakkasan
Hakkasan has brought back its Plum Blossom menu for weekday lunch. This five-course set menu showcases the restaurant's signature Cantonese specialties as well as new creations. Expect a comforting soup, a choice of two small dishes (among Hakkasan's dim sum favourites), a main dish and a dessert (apple and vanilla creme brulee or dark chocolate mousse, anyone? ), as well as a mixture of fruits such as a Virgin Hakka (a mixture of lychee juice, coconut cream, passion fruit and lime) or a Green Nile (a mixture of apple juice, lychee, ginger, coriander and kiwi juice) among other choices. A soothing cup of jasmine green tea is part of your Hakkasan Plum Blossom lunch experience.
When: 12 p.m. to 3 p.m., Monday to Friday
Or: Hakkasan, Bandra, Bombay
Price: from Rs 1,295

Vegan and gluten-free menu at Yogisattva Cafe
Yogisattva Cafe has introduced an all-new in-house menu with a huge selection of plant-based and gluten-free options specially selected by founder, Chef Raveena Taurani. The beautiful rooftop cafe offers vegan, raw vegan, gluten-free, refined sugar-free, lactose-free, and plant-based options. The All Day Breakfast menu now includes offerings, some with interesting names, including Spec-Taco-Lar, Vegan Protein Rich Quiche; and Break your envelope fast. Also on the menu are globally inspired meze plates, bites and nibbles, dips and crackers, veggie toast, pizzas, entrees, desserts, smoothies and cold drinks – all suitable for discerning diners following a vegan and gluten-free diet.

When: 9 a.m. to 10:30 p.m., Tuesday to Sunday
Or: Cafe Yogisattva, Khar, Bombay
The Battle of the Oranges in Sorrentina
The Italian restaurant Sorrentina is once again celebrating an ancient and unique Italian tradition, Carnevale D'ivrea – the Battle of the Oranges. It is a traditional celebration in the town of Ivrea, in northern Italy, to welcome the arrival of spring. Chef Aabhas Mehrotra offers a "freshly pressed" special edition menu available until March. The citrus-infused menu includes small plates such as Crostone – toasted buttery ciabatta topped with stracciatella, zucchini and an orange vinaigrette, handmade pizzas such as Alla Puttanesca with orange segments , feta and chilli, and pastas such as Gnocchi All Arancia – orange glazed gnocchi, and Rosso Ravioli, which includes blush sauce, orange and ricotta capellini, seasonal pepper and dehydrated orange. Desserts include Java Cake with an orange marmalade center and dark chocolate outer coating, and Nutty Orange – Nutella semifreddo, orange curd and hazelnut streusel with orange ice cream. There's also a cocktail menu inspired by orange and infused with Pearl Fernandes, and mocktails for teetotalers.

When: Until Sunday, March 27, 2022
Or: Sorrentina, Santacruz West, Mumbai


Nara Thai Dim Sum Lunch Menu
Nara Thai in Colaba offers a new five-course dim sum lunch menu that includes Yauatcha specialties, as well as Nara Thai delicacies. Expect shui mai and dumplings alongside stir-fry options from Yauatcha, as well as rice and noodle options from Nara Thai. Desserts will make a perfect ending with choices such as Nara's Coconut Ice Cream with Condiments and a Chocolate Crepe.
When: 12 p.m. – 7 p.m., Monday to Thursday, until March 31, 2022
Or: Nara Thai, Colaba, Mumbai
Price: Rs 888 per person
All content for information only. female cannot be held responsible for any dispute arising therefrom.

Also see: Do you like oriental cuisine? Here are 10 good restaurants to try in Delhi