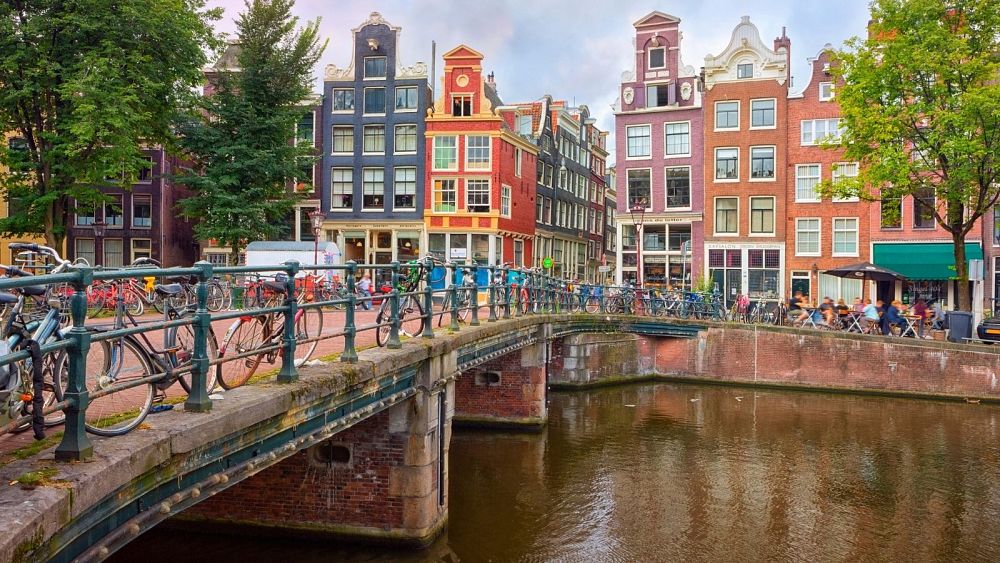 With its beautiful streets linked by trams, buses and cycle paths, Amsterdam is both a travel and transport lover's dream.
The appreciation of the capital of the Netherlands is on the rise. He now ranks ninth in the world most liveable city according to the annual ranking of The Economist. "Livable" is also on the tip of tourists' tongues, but it's overwhelming with low praise – the biggest impression is of a truly quiet place to exist.
Known as "the Venice of the North", Amsterdam has more than 160 canals and 1,200 bridges crossing them. This loose grid system can make it difficult for visitors to orient themselves, as there are countless elegant houses, bars and cafes popping up on every street.
The abundant number of carry options carries the slight risk of needing eyes at the back of your head as they all buzz around you, stepping into the most central parts. But paying attention to one's surroundings is never rewarding except in a city as beautiful as amsterdam.
Summer is a great time to visit as it brings the city's parks and water features to life. After spending a few unusually hot days across the North Sea this year, here are my top tips for sleeping, eating, drinking and staying cool.
Where are the best places to stay in Amsterdam?
As in any European capital, holidaymakers have no shortage of places to rest in Amsterdam. Faced with competition, hotels are doing more and more to distinguish themselves.
These three places all have a strong concept, remain faithful to their vision of hospitality and offer a little something extra to your stay.
Volkshotel
Located just a short metro ride from Central Station – and a short walk from charming Oosterpark – Volkshotel is an extremely fun place to base yourself. It might not look like much from the outside (although a portico with a beer-drinking monkey atop a seagull gives a hint of how crazy it is). The exterior couldn't be farther from the Grand Budapest Hotel, but the bustling inner workings of this former newspaper headquarters certainly had a Wes Anderson feel.
In addition to several floors of hotels, a cutaway image would show people bathing in the rooftop hot tubs, dining in the stylish Canvas restaurant, typing in the workspace studios and dancing in the basement. floor. I enjoyed all the hard work minus the hard work for this Dutch dispatch, and it really felt more like an all-in-one experience than just a hotel.
With incredible panoramic views, delicious food and cocktails, Canvas is also a destination for locals. And without a doubt, the open workspace is a bustling place for creatives and digital nomads. Guests can access all areas and activities, but are themselves hidden with a secure card system.
There are rooms for different budgets and tastes, from €79 (off season) for a cabin, up to €200 and more for one of the special rooms. 'Cabin in the Woods' is one of these; a spacious haven that will delight do-it-yourselfers with its mix of massive square joinery and birch wood, plus an "open-air" bathtub.
The staff are very friendly and – considering all the activities on offer, from yoga to life drawing sessions and hairdressing – I would particularly recommend Volkshotel to anyone looking for a longer stay and more sociable time in town.
Conscious Hotel, Westerpark
It's not every day that you stay in a hotel in the middle of a park. The Conscious Hotel's exceptional location in Westerpark is both peaceful and perfectly suited to its environmental philosophy.
It is the first hotel in the Netherlands to be powered solely by wind energy, largely from its own windmill in the port of Amsterdam – supplied by green supplier Pure Energie. The large red-brick building, once the site of a former gasworks, is 100% electric.
The rooms are simple in style, bright and clean, but with a touch of originality. Things have substance: From Fairtrade cotton sheets to desks made from recycled yoghurt pots, every item has a solid, well-sourced feel.
There are four Conscious Hotels in total, two next to the beautiful Vondelpark and another next to Museum Square. And in everyone this simplicity blends with a spirit of character. "Eco sexy" is the brand slogan, and it is widely used. You'll find it hard to avoid this kind of wackaging in Amsterdam boutique accommodation, but in this case it's at least well deserved.
Kantoor Bar is a stylish dining space, with a bar made from old medicine cabinets at one end and an open kitchen at the other. There are a wide variety of breakfast options, all with the bonus of being able to look out over the park while you get your caffeine fix.
Trams don't line up as easily from Westerpark to get to the inner ring of shops and restaurants, but they're just a short walk away. And those looking to explore Amsterdam the local way will be pleased to know that the hotel offers bikes for rent. Head to Sloterplas – just a 20-minute bike ride west – on a hot day, to laze by the lake with its own urban waterfront.
A little further afield, the vast Niewe Meer offers another great spot for outdoor swimming, while the former shipyard of Marineterrein is ideal for a quick dip.
Hotel la Bourse
Blink as you walk down Damrak and you'll miss it, but a discreet entrance gives way to this sprawling hotel in the heart of Amsterdam.
Each room is designed by fashion students, with all interior design serving a theme – even one as niche as a "Rembrandt-style necklace". Rooms range from spacious 5-star suites to 1-star economy rooms: 'cozy hideaways' with fun details like giant buttons or collections of embroidery hoops.
I stayed in 'The Lagos Room', a tribute to designer Papa Oyeyemi's hometown, and a vision in yellow gingham and black tire. It has a secret, twilight feel, offset by expansive balcony views, an elevated concept but also extremely comfortable. Even a less tailored piece, you feel, is woven with the same care and attention to detail.
Being in the heart of the action also has obvious advantages, as you are close to Amsterdam's many attractions.
The hotel is just a three-minute walk from the magnificent medieval Oude Kerk Church and Our Lord in the Attic, a hidden ancient Catholic church. Other underrated spots include the Mouse Mansion – a charming model town run by rodents – and the Huis Marseille photography museum with its small but peaceful garden.
They sit at either end of the nine streets, which house an attractive maze of independent shops.
Where are the best places to eat and drink in Amsterdam?
It would take you more than a weekend to find the best restaurants in Amsterdam, but there are definitely a cluster of stylish places on the west side.
The charm of Café Binnenvisser spills over onto the sidewalk. Under beautiful stained glass, the windows open in summer to merge the interior coolness and the warm evenings. If you have time (and are happy to have a blast one evening), enjoy the 5-course menu and watch the world go by.
Further north, Italian restaurant Rafi also has a neighborhood feel that belies its central location and serves delicious classic cuisine with a modern twist.
Vegetarians and Vegans can't miss Vegan Junk Food Bar – a company that realized the gap in the market for fatty, bulky, plant-based foods several years ago, and forged ahead with brightly colored burgers. I ate at the restaurant on Reguliersdwarsstraat, Amsterdam's iconic and fun gay street.
Foodhallen is another Amsterdam dining experience to write home about, or at least on the Instagram grid. Beautiful stalls with all types of cuisine, plus bars and DJs all under one roof.
For quicker pit stops, try Vleesch Noch Visch for pitta wraps and Fou Fow Ramen for the perfect gyoza and refreshing Asahi beer. There are so many places to have a drink in Amsterdam, but Cafe P96 is a place to feel the warm, local vibe. Grab a chair on the boat's deck and feel the gentle sway of the canal beneath you.