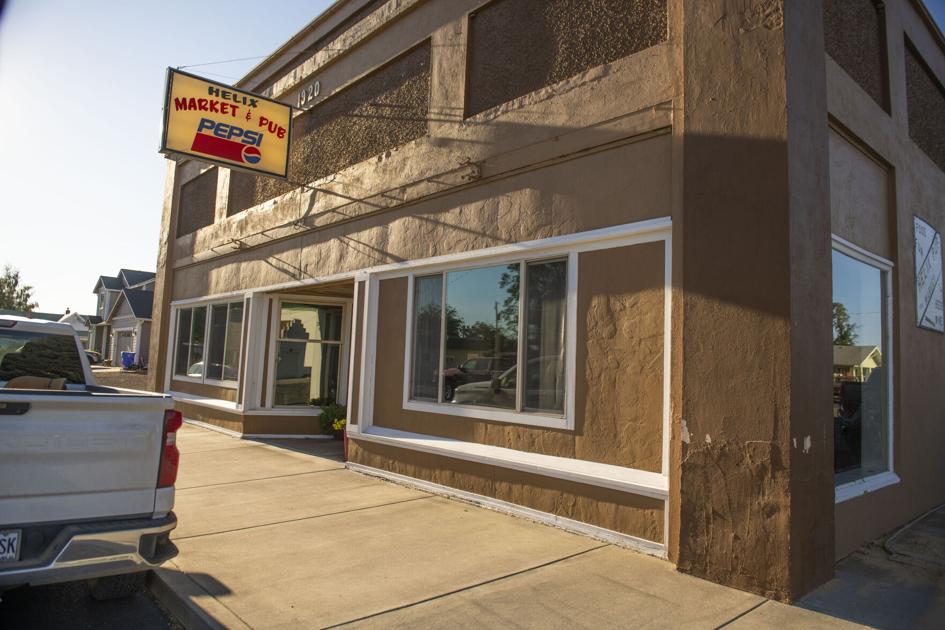 It's Tuesday and that means Taco Tuesday at the Helix Pub & Market, where the beer is cold and the food is prepared with an emphasis on quality and delight.
To get there, you need a bit of a drive for those who are not lucky enough to live nearby. But this trip is a treat in itself.
The approach to the small town of Helix, Oregon – about 150 residents, locals say – can only be described as bucolic.
On a recent summer evening, mowed wheat fields blanketed rolling hills like layers of gold, interrupted by sturdy red barns and sleek cattle standing deep in acres of rolling grass. The setting sun polishes everything in a vibrant sepia print, like a postcard found in your grandfather's suitcase.
As you go around a bend on Athena's side road, you'll discover the Helix School District, "Home of the Grizzlies!" Where a regional volleyball jamboree takes place at Griswold High School.
Friends hanging out in cars chat through lowered windows at unsupervised intersections as children cycle through the city's business district.
Right in the center of it all is the Helix Pub, as it's most commonly known. Inside its deceptively simple exterior are original plank walls, rustic wood, modern farmhouse art, a satin blue pine slab of a bar top.
And Jeralyn Dodge, the effervescent owner of the bar-restaurant.
How this business finds itself here in 2021 is the small town American recipe. How Dodge became the manager of the pub and – often – the sole employee is a matter of determination.
It begins with the address, 206 Concord St. This place has always housed significant concerns for the functioning of the agricultural town on the north side of Umatilla County.
During the golden and busy years of Helix, which was named in 1880 and incorporated in the early 1900s, the building was primarily a grocery store and meat market, part of a bustling town center that included, to various eras, a hardware store, flour mills, pharmacy, hotel and tavern, a bank, a car repair shop and a gas station.
As elsewhere, however, the small farms in the Helix region have been bought up by large agribusiness companies. The change meant fewer farm families, fewer residents and less need for local businesses.
Now, apart from government entities like the school district and a US post office, the city's business enterprises can be counted on the one hand.
But 206 Concord St. has always been used to feed people in one way or another, whether it's serving meals, butchering livestock, or selling groceries.
Helix resident Judy Bracher remembers the Brogoitti family grocery store, where her mother would go to collect boxes of supplies to make harvest lunches and where the week's supply of meat for lunch was cut by the grocer.
Over the decades and in different uses, the building has been important to the families who call Helix home.
Maintaining this tradition for the good of the small community has become a mission for a group of wheat growers in the region.
About two years ago, six couples, all with generations of Helix residence on the census records, decided to buy the place and keep it in the family.
For every last Helix family, that is. And not for the sake of profit, only for the riches that come when people can come together to share their day.
Judy Bracher and her husband Cliff, their son and daughter-in-law, Paul and Friday Bracher, as well as Larry and Tammy Parker, Tyson and Kate Raymond, Randy and Dana Perkins, as well as Tanner and Polly Hawkins have followed a role model. is happening in this village before – people coming together to put their money where their heart is.
It was important to everyone. No fame, no advertising, no sense of ownership but only a desire to be connected, said Paul Bracher.
When the last bar and grill owner, Anna Doherty, passed away in 2018, her customers were left adrift, he recalled.
"We tried for a year to have gatherings in people's homes on Thursday evenings. We rotated and tried to keep going, but it's not sustainable. "
By pooling their money, investors bought the place on Concord Street. Following a handshake deal in late 2019, Jeralyn Dodge agreed to design and manage the pub and grill, paying rent to the new owners.
Everything has been done to restore and reinvent the building, starting with a shiny new kitchen, Dodge said.
"Then we were affected by the pandemic… We opened on June 16, 2020, then we had to close. It was a roller coaster here.
Dodge, however, has done a few rides already. She started working in the restaurant business when she was 15 while cultivating her own acreage, she said.
"My dad always said 'You must have another income in farming.' "
While attending community college, Dodge worked at a steak restaurant. She then ran a bar in Ellensburg for five years, she said.
Dodge found her way to Walla Walla and Walla Walla Community College, where she obtained her engineering degree while working at the Waterhole bar in Umapine.
She switched to the Wilbur-Ellis farm business to use this new degree.
When his son Jay was born nearly six years ago, Dodge found a more flexible schedule in restaurant work in Pendleton and seeding and driving tractors for farmers in the area.
Sometimes she juggled three sources of income at once, she laughs.
It is clear that Dodge, which is jostling on this Taco Tuesday to anticipate needs and ensure a smooth delivery flow, is not afraid of the long hours and physical labor involved in running the Helix Pub.
A typical day brings 25 customers, including high school students down the street, but a busy day can draw 75 people through the door, Dodge said.
The pub has organized musical evenings, birthday parties and 'moms' cafes. More recently, Dodge added Sunday hours to help fill the hole created by the Long Branch Cafe & Saloon fire in nearby Weston.
Everyone is welcome to collaborate on how best to use the business, she said.
"It's everyone's house, it's not just mine… We're all like a little group. "
Other community members, "who don't want any recognition," have helped the Helix Pub by purchasing things for its facelift, Bracher said.
The company's latest take isn't exactly an unusual story for small towns, Parker insisted.
"Honestly, we wanted a place as long as people want to come, as long as Helix needs a place. I think there are a lot of stories like this in these small towns.